Description
The 2 in 1 Vehicle Emergency Escape Tool Keychain is an essential item to be prepared in case of a vehicle accident.
Containing in it's small package a Seat Belt Cutter and a spring loaded Window Breaker.
In the event of a serious accident involving fire or deep water, it is essential to get you and your loved ones out of the vehicle as quickly as possible. the 2 in 1 Vehicle Emergency Escape Tool Keychain will help you in case you cannot get yourself or your loved one out of the seat belt, or the door won't open and you cannot lower your window.
Instructions:
Always know how to escape. Stay calm, Don't Panic!
And remember the acronym POGO
Pop your seat belt button to release it. If it's jammed, pull out the car rescue tool from it's blade guard (A), hook it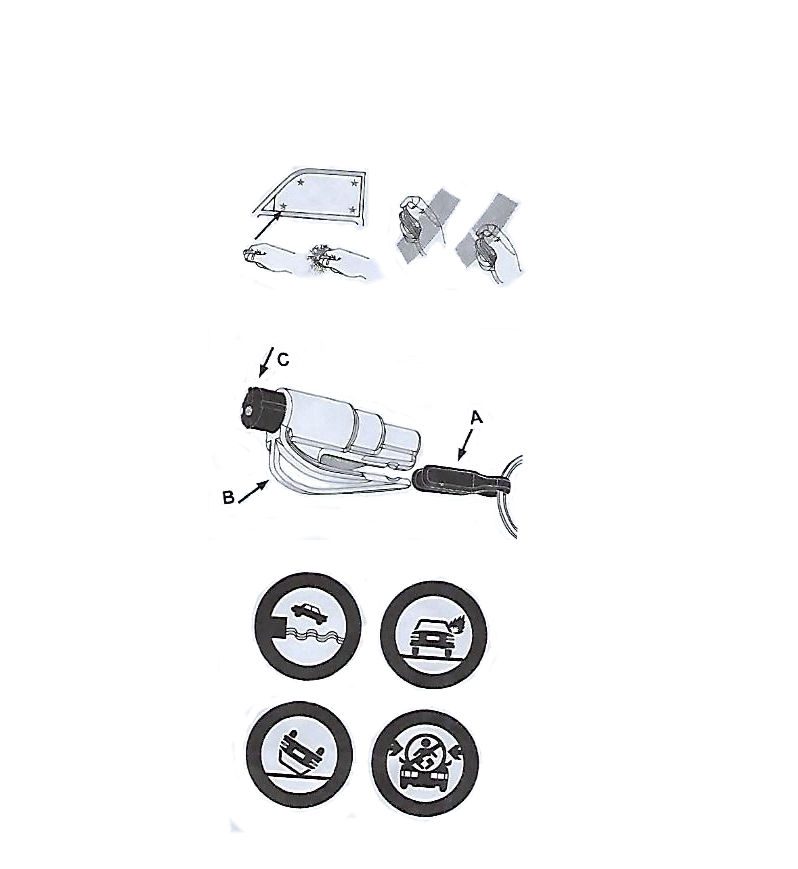 over the seat belt by cutting it diagonally from the top to bottom (B).
Open your door, If your door won't open, quickly try to lower the window. If the window is stuck or you can't open it. Push the end of the black cylinder (C.) against a corner of your side or rear window. Cover your eyes and press sharply against the window. A spring loaded spike will release and shatter the window. The spike automatically resets and can be used again and again if the window doesn't break on the first try.
Get Out! Don't hesitate, once you have the door open or window broken, got out of the vehicle quickly!
This tool will not break windshields or laminated glass. Some automobile side windows are laminated: Ask your car dealer for more information.
Warning the 2 in 1 Rescue Tool is designed solely  for use in vehicular emergency situations and must not be used for any other purpose. If you want to test the Rescue Tool, wear gloves and protective eyewear. Do not press the spring loaded spike to any part of your body or injury may occur.