FAQ
Buckle Boss general questions.
Do you sell any other type of guards?
The Buckle Boss Brand of guards are the only type of guard sold by GBY, Inc.
Is the Buckle Boss sold in stores?
It is not. The Buckle Boss is sold only on this site, Amazon.com, eBay.com and on several other special needs sites.
What happens in an accident and the driver is incapacitated?
Usually, in an emergency situation the fire and police immediately cut the seat belts and don't waste time trying to figure out how to release the belts.
What if I receive the Buckle Boss and it doesn't fit my particular vehicle?
If you find that the BuckleBoss does not fit in your particular vehicle, you may use a Razor Knife, Box Cutter, a Paring knife, etc to remove the plastic in the locations highlighted in RED in the picture below. Cut only from the outside bars, DO NOT remove any plastic from the middle 2 plastic bars. That will weaken the integrity of the BuckleBoss.
We also now have the  Buckle Boss Version 2  that has been updated to fit a wider range of vehicles and the Buckle Boss Bus for seat belts with buttons on the side.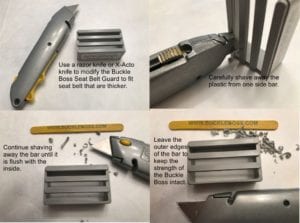 Failing that, return the product to me for a full refund [minus S&H] within 30 days.
Will the Buckle Boss work on a regular school bus?
The Buckle Boss will work only on seat belts that have the red release button on the tip of the belt. School buses are not so equipped. For seat belts with the buttons on the side, we now have the
Buckle Boss Bus
.
Will the Buckle Boss work with harnesses and other types of restraints?
It will not. They do not have the type of release button needed.
Payment and Shipping questions.
I'm Tax Exempt, how do I purchase online?
If you are a Tax Exempt Organization, you can still order directly from the Buckle Boss website.
You need to be logged in to an existing account on the website.  If you don't already have an account, you can create one easily HERE.
Once logged into your account, add items to your cart and checkout normally. Halfway down the checkout page. Just above the Cart Total, there's a Check Box for "Tax Exempt". Checking that box will bring up a new option to "Add Certificate". Enter the information from your certificate and save.
The certificate is now saved to your account, the next time you make a purchase you can log in and use the saved certificate or add a new one.
Do you accept purchase orders?
We do accept purchase orders from school districts, special needs transportation companies and some distributors. A minimum of 5 units is required.
Sorry, we don't have a fax machine. You may email the PO to sales@buckleboss.com and when your order ships, we will email you an invoice in return.
How long will it take to receive my order?
Your order is shipped within a day of receipt of payment. I know how important it is for you to receive the Buckle Boss as soon as possible.
What form of payment do you accept for foreign sales?
Check payment must be made in the form of an international bank draft or money order. No personal checks will be accepted.
We also accept credit cards and PayPal on website orders.
What forms of payment to you accept?
We accept payment in the form of a check or money order via mail orders and purchase orders.
We also accept credit card and PayPal on website orders.
Will my information on the order form be used for any purpose other than for ordering the Buckle Boss?
Absolutely Not! That information is for our use only in the event that there is a problem with your order and we need to contact you.
The Buckle Boss cannot be all things to all people in all situations. It can only help to alleviate the stress felt by those drivers whose passengers cannot or will not stay buckled-up. It can give the drivers some measure of peace knowing that they can drive with a bit more safety and security. My only hope is that the Buckle Boss has and will continue to save lives.