Description
Get The Buckle Boss Classic II
The Buckle Boss Pro is a child seat belt safety lock that keeps your child safe without restraining them in any way apart from normal seat belt use. It is designed for most vehicles manufactured after 2016. Our automobile seat belt safety device is designed to guard the vehicle seat belt release button from the fingers of special needs children or adults with cognitive disabilities such as ADD, Angelman Syndrome, Alzheimer's, Autism, etc. It easily slips right on the passenger's seat belt – no tools necessary!
What's new in Classic II?
The seat belt tongue slot is wider and has been recessed to make room for some more models of car seat belt that have a shorter tongue and thicker body. This makes it fit a wider range of vehicles than previous models.
The 2 other slots have been narrowed to make it more difficult for the passenger to use other objects such as another seat belt to open the Buckle Boss when they are not supposed to. But the caregiver can easily unbuckle the seat belt using a slim object such as a popsicle stick or key.
The sides have been made deeper to keep small fingers from getting under the Buckle Boss and pressing the button.
US Patent Number: 6,332,252 B1 The Buckle Boss® Belt Guard does not restrain the passenger in any way apart from normal use of the seat belt. It will only cover the seat belt release button to keep it from being pressed while a vehicle is in motion. The Buckle Boss® Belt Guard is of durable construction, simple to use, releases with any slim object and is very effective.
Proudly Manufactured in the USA, not China! Labeled and packaged by special needs students in Lexington, MA.
The ORIGINAL and STILL the most effective Seat Belt Buckle Guard available!
Helps prevent occupant from unbuckling seat belt
Simple to release with any slim object. Make sure there are no objects within reach that can be used to open seat belt, including another seat belt.
Works on most vehicles with standard seat belts. Will work on other vehicles with slight modification. Please see FAQ for modification instructions.
If for any reason you are not completely satisfied with the Buckle Boss® Belt Guard, please return it within 30 days for a full refund [minus S&H].
Easy Installation and Removal of the Buckle Boss® Belt Guard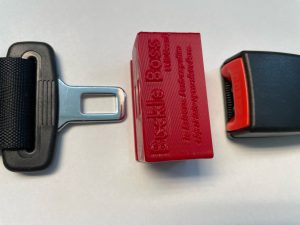 Position the Buckle Boss® Belt Guard over the red seatbelt button.
Insert the seatbelt into the side slot that is over the opening where the belt fits into the buckle.
Do not insert the seatbelt into the middle slot (it's not critical, but makes it a little more difficult to "pop" the button quickly).
To release, push any key or slim object into either of the two free slots.
The Buckle Boss® Belt Guard is Proudly manufactured in the U.S.A.